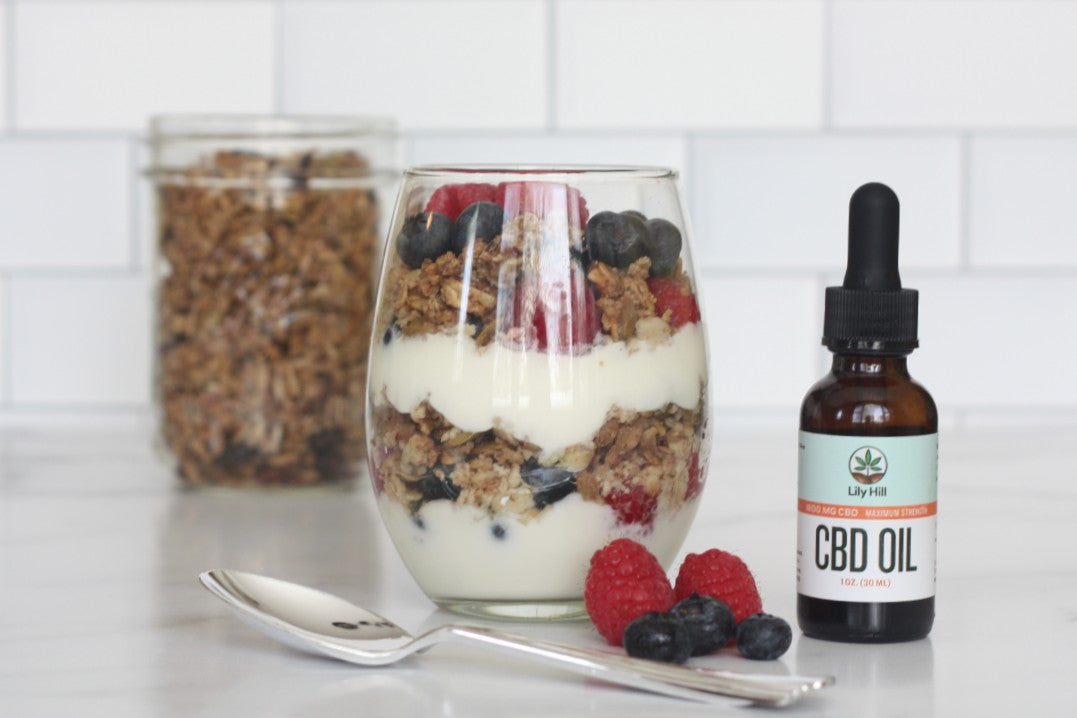 Recipe Corner: CBD Granola
Winter is here in Vermont. Every year when the world is covered in a blanket of white, I struggle with the split urge to get cozy, slow down and cook or get moving and explore the mountains on my skis. I find a balance by getting up early to get to the mountain and coming home and cooking in the evening. The smells of hearty soups and sweet treats fill my kitchen most evenings. 
As you can imagine, my mornings are a bit more fast paced when I'm trying to get to the mountain for first chair. My evenings are slower while I recover with a bowl of soup and some tea. I have mastered making a breakfast sandwich in seven minutes from start to clean up. But some mornings I keep hitting the snooze button and that breakfast sandwich turns into a quick bowl of yogurt, fruit and granola. 
This granola is simple and quick to make and can easily be made while you have dinner simmering on the stove. For me, this is the best of both worlds: I am cooking in the evening and giving myself the option for a quick grab and go breakfast. 
Recipe: CBD Granola
Note: We used our 1800mg CBD Oil for this recipe, but any of our unflavored CBD oils will work just as well. We note below how much to use depending on which strength oil you have on hand. One full dropper of CBD oil is 1 mL.
Yield: 6 cups 
150mg of total CBD
Serving Size: 1/2 cup
CBD/serving: 25mg
Ingredients:
2 cups oats

¼ cup chopped pecans

¼ cup slivered almonds

¼ cup

pumpkin seeds

¼ cup sunflower seeds

1 tsp cinnamon

1 tsp ground ginger

½ tsp salt

150 mg CBD

½ cup maple syrup

1 tsp vanilla extract

½ cup coconut oil 

⅔  cup dried cherries
Instructions:
Preheat oven to 350 F and line a baking sheet with parchment paper. 

In a large mixing bowl, stir together oats, nuts, seeds, salt, cinnamon and ginger. 

Pour maple syrup, CBD oil and vanilla over oat mixture. Mix well until everything is evenly coated.

Mix in the coconut oil with your hands (this works best if the coconut oil is soft and not liquid; if you live in a warmer climate and your oil is liquid you should add it with the maple syrup in Step 2). Your hands will help melt the oil and coat the mixture. It is ok if there are a few chunks of oil. Every oat, nut and seed should be coated. 

Pour granola on the prepared baking sheet and spread evenly with a wooden spoon. Bake until golden brown, 20-22 minutes. Stir halfway through. 
Let granola cool completely before breaking it up and stirring in the dried cherries (Note: the granola will crisp up as it cools).

Store granola in an airtight container at room temperature for 1 to 2 weeks or in the freezer for up to 3 months.