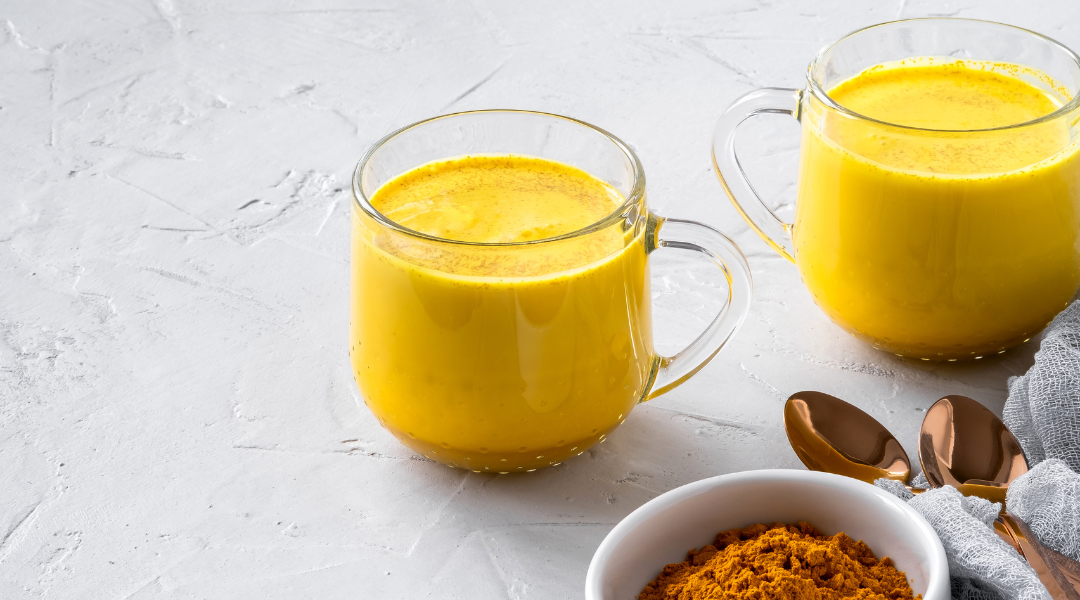 Recipe Corner: CBD Golden Milk
The birds chirping outside are a sign that the season is changing and warmer days are to come. BUT, it's Vermont and we all know there's a chance we may wake up with snow on the ground in May. Yes, the days may be getting warmer, but the evenings are still cold.  Lately, instead of my normal evening cup of tea, I have switched to Golden Milk to warm my bones and brighten my soul before I drift off to dreamland. This delicious beverage is packed with health benefits and filled to the brim with nutrients. 
What is Golden Milk? 
Golden Milk, also known as haldi ka doodh, is an ancient healing remedy whose origins can be traced back to ancient India, where it was (and still is) used in Ayurvedic medicine to help with insomnia, coughs and colds.
Turmeric is the superstar in golden milk and is what gives this magical drink its gorgeous color. The main active ingredient in turmeric is curcumin which has powerful anti-inflammatory properties that boost the immune system (we are all looking for a little immune system support these days, right?!?). Unfortunately, turmeric is not very bioavailable which means it's difficult for our bloodstream to absorb turmeric and reap the benefits. However, there are two ingredients that increase the bioavailability of turmeric: black pepper and fat.
Black pepper contains an alkaloid called piperine which enhances the bioavailability of many substances, including turmeric. Studies have shown that combining just a little black pepper with turmeric can boost blood levels of curcumin by up to 2,000%!  
Our second key ingredient is fat. Turmeric is fat-soluble so the presence of fat increases the solubility of curcumin. Combining turmeric with a healthy source of fat (CBD oil and coconut oil) allows the curcumin to be better absorbed into the bloodstream. 
Why Drink Golden Milk? 
Turmeric has been used in Ayurvedic medicine for thousands of years for conditions such as breathing problems, joint pain, fatigue, digestive issues and more. But if you want some more solid research, there have been modern scientific studies showing the benefits of turmeric. These studies have shown that turmeric may:
boost immunity,

improve your mood,

help lull you to sleep, 

ease achy joints, and

improve digestion and gut health. 
CBD and Golden Milk 
Like turmeric, cannabis has been used in Ayurvedic medicine for centuries. In fact, evidence suggests that cannabis has been used as medicine for over 2,400 years!  
Adding CBD oil to golden milk really brings this cup of goodness to the next level. During this time when we all need a little nudge to relax, I hope this CBD golden milk levels up your evening routine. 
If you try this recipe, let us know by leaving a comment and by tagging a photo of your creation with #lilyhilllcbd on Instagram. Happy sipping! 
Recipe: CBD Golden Milk
Note: We used our 500mg CBD Oil for this recipe, but any of our unflavored CBD oils will work just as well. We note below how much to use depending on which strength oil you have on hand. The recipe calls for 20mg/CBD per serving but you can use more or less depending on your desired dose.
Yield: 2 cups  

40 mg of total CBD 

Serving Size: 1 cup 

CBD/serving: 20mg 
Ingredients: 
2 cups light coconut milk  

1 tsp ground turmeric OR 1 tbsp of freshly grated turmeric 

½ tsp ground ginger OR ½ tsp of freshly grated ginger 

¼ tsp ground cinnamon OR 1 whole cinnamon stick  

1 Tbsp coconut oil 

Pinch of ground black pepper 

Pinch of ground cardamom 

1 Tbsp of maple syrup (or honey to taste) 

40mg of CBD
Instructions: 
In a small saucepan, add coconut milk, turmeric, ginger, cinnamon stick, coconut oil, black pepper, cardamom, and maple syrup. 

Whisk to combine and warm over medium heat. Heat until hot to the touch but not boiling, 4-5 minutes, whisking frequently. 

Turn off heat; add more sweetener or spices to taste.

Divide between two mugs (leave the cinnamon stick behind if added). Add the desired amount of CBD into each mug and stir. Serve immediately. 
Recipe Notes: 
Use a creamy, plant-based milk. My favorite is coconut milk from a can (I find it creamier); I have also used almond and oat milks to switch things up.  

If you can't find turmeric root, powder is a great substitute and will work just as well. 

Living in Vermont, I always have maple syrup in my fridge but if honey is more your flavor, use it instead.  

If you want to remove the freshly grated turmeric and ginger, strain while pouring into cups. 

This recipe is best when fresh, but leftovers can be stored in a covered container in the refrigerator for up to three days and reheated on the stove or in the microwave.
 Sources:
Jurenka JS, Ascp MT. Anti-inflammatory Properties of Curcumin, a Major Constituent of Curcuma longa: A Review of Preclinical and Clinical Research. Altern Med Rev Vol 2009;14:141–54. 
Yang, Melissa et al. Curcumin in Autoimmune and Rheumatic Diseases. Nutrients vol. 11,5 1004. 2 May. 2019, doi:10.3390/nu11051004 
Dulbecco, Pietro, and Vincenzo Savarino. Therapeutic potential of curcumin in digestive diseases. World Journal of Gastroenterology vol. 19,48 (2013): 9256-70. doi:10.3748/wjg.v19.i48.9256 
Kulkarni, S.K., Bhutani, M.K. & Bishnoi, M. Antidepressant activity of curcumin: involvement of serotonin and dopamine system. Psychopharmacology 201, 435 (2008). https://doi.org/10.1007/s00213-008-1300-y 
Ahmad Afaghi, Helen O'Connor, Chin Moi Chow, High-glycemic-index carbohydrate meals shorten sleep onset, The American Journal of Clinical Nutrition, Volume 85, Issue 2, February 2007, Pages 426–430, https://doi.org/10.1093/ajcn/85.2.426